New book by Packt:'Python Text Processing with NLTK2.0 Cookbook'
Packt Publishing releases a new book 'Python Text Processing with NLTK 2.0 Cookbook' by Jacob Perkins (http://streamhacker.com). I received review copy of the book today. I will put a review of the book here soon. The book comes with lot of practical examples and tips.
An extracted chapter from the book is available for download at https://www.packtpub.com/sites/default/files/3609-chapter-3-creating-custom-corpora.pdf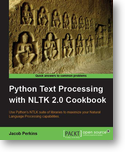 Comments
No new comments allowed (anymore) on this post.